Shuttering Plywood 18mm Phenolic Exterior Plywood For Concrete Form use Board
Product Detail
Product Tags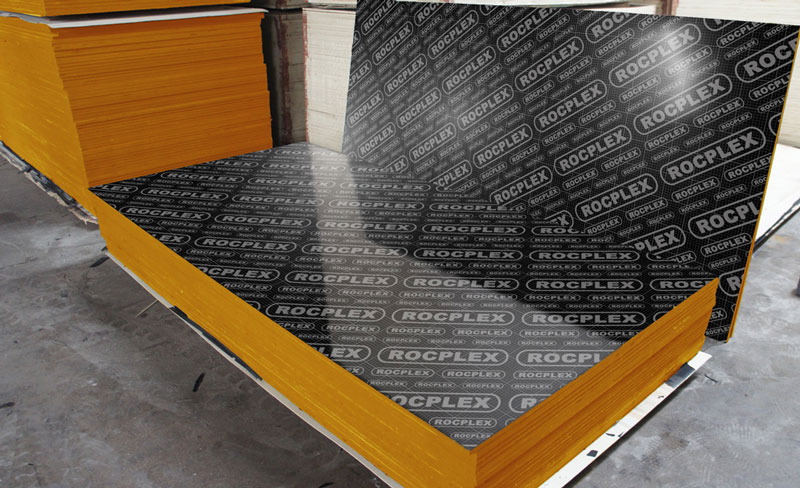 Shuttering Plywood 18mm Phenolic Exterior Plywood For Concrete Form use Board is a high-quality hardwood plywood covered with phenolic resin-treated film that turns into a protective film during production.
Comes with smooth or mesh surface. 
Edges are sealed with water-dispersible acrylic paint.
This type of plywood is widely used in the construction industry and trailer floorproduction. It is easy to mount and use.
ROCPLEX 18mm film faced plywood for strong, stable, concrete formwork
Sr NO.

Property

Unit

Test Method

Value Of Test

Result

1

Moisture Content

%

EN 322

7.5

Check out

2

Density

kg/m3

EN 323

690

Check out

3

Bonding Qality

Bonding Qality

Mpa

EN 314

Max: 1.68 Min:  0.81

Check out

Damage Rate

%

85%

Check out

4

Bending Moudulus of Elasticity

Longitudinal

Mpa

EN 310

6997

Check out

Lateral

6090

Check out

5

Longitudinal

Mpa

Mpa

59

Check out

Lateral

43.77

Check out

6

Cycle Life

About 15-25 Repeated Using Times Acoording To Projects By Formwork Application
Sr NO.

Property

Unit

Test Method

Value Of Test

Result

1

Moisture Content

%

EN 322

8

Check out

2

Density

kg/m3

EN 323

605

Check out

3

Bonding Qality

Bonding Qality

Mpa

EN 314

Max: 1.59 Min:  0.79

Check out

Damage Rate

%

82%

Check out

4

Bending Moudulus of Elasticity

Longitudinal

Mpa

EN 310

6030

Check out

Lateral

5450

Check out

5

Longitudinal

Mpa

Mpa

57.33

Check out

Lateral

44.79

Check out

6

Cycle Life

About 12-20 Repeated Using Times Acoording To Projects By Formwork Application
Sr NO.

Property

Unit

Test Method

Value Of Test

Result

1

Moisture Content

%

EN 322

8.4

Check out

2

Density

kg/m3

EN 323

550

Check out

3

Bonding Qality

Bonding Qality

Mpa

EN 314

Max: 1.40 Min:  0.70

Check out

Damage Rate

%

74%

Check out

4

Bending Moudulus of Elasticity

Longitudinal

Mpa

EN 310

5215

Check out

Lateral

4796

Check out

5

Longitudinal

Mpa

Mpa

53.55

Check out

Lateral

43.68

Check out

6

Cycle Life

About 9-15 Repeated Using Times Acoording To Projects By Formwork Application
■ If put in boiling water for 48 hours, it is still glue-sticking and non-deformed.
■ Physical mood is better than iron moulds and can satisfy the requirements of constructing mould, the iron ones are easy to be deformed and can hardly recover its smoothness even after repairing.
■ If used abide by the illustrations strictly, it can be reused more than 50 times.
■ Reducing the cost greatly and avoiding the disadvantages from ( rustily and erosive of iron mould) ROCPLEX film faced plywood.
■ Solves the problems of leaking and rough surface during constructing process.
■ Particularly suitable for watering concrete project , can make the concrete surface smooth and flat.
■ Realizing a higher economic profits.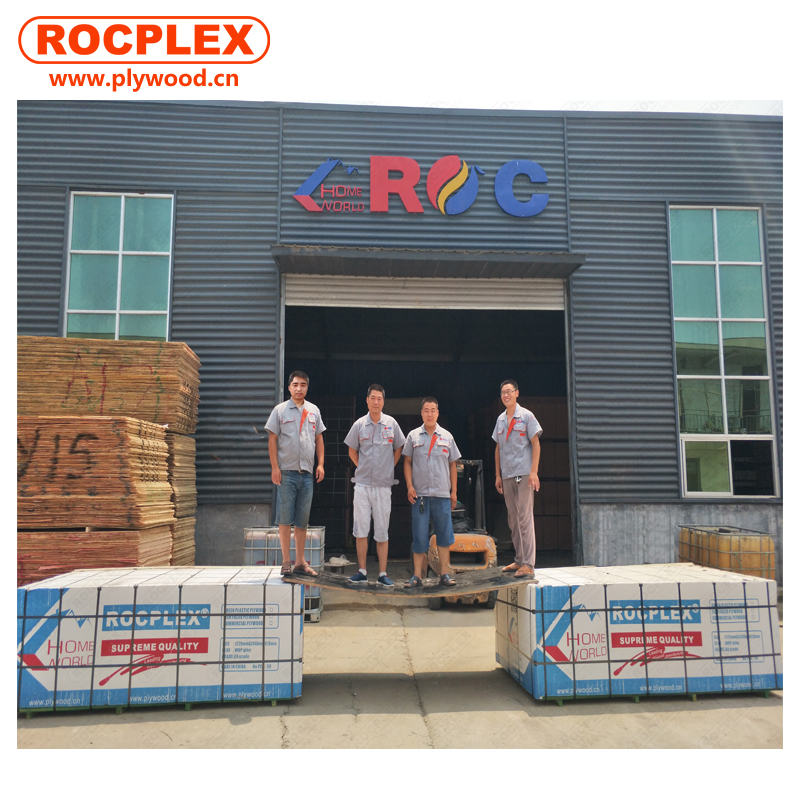 ROCPLEX 18mm Film faced plywood Save cost

 

Be special for phenolic glue and film

The film faced plywood can be disassembled and used repeatedly for both faces,saving 25% of the cost.

 

Optimization for the special grade of core

 

Be special for adhesive

ROCPLEX Film faced plywood Shorten duration

 

Excellent effect of demoulding

Shorten 30% of the duration.

 

Avoid the reconstruction of the wall

 

Be easy to incise and blend

ROCPLEX Film faced plywood the high quality of casting

 

The flat and smooth faces

The faces are flat and smooth, avoiding bleeding out remains of bubbles and concrete.

 

The structure of waterproof and breathability

 

The edges are polished carefully
| | | | | |
| --- | --- | --- | --- | --- |
| Container Type | Pallets | Volume | Gross Weight | Net Weight |
| 20 GP | 8 pallets | 22 CBM | 13000KGS | 12500KGS |
| 40 HQ | 18 pallets | 53 CBM | 27500KGS | 28000KGS |
Meanwhile we also can supply you the formwork systerm accessories, commercial plywood , film faced plywood etc.
We specially professional in supplying antislip plywood.
Please contact our sales team for more detailed information regarding chinese film faced plywood.
---
---