Scaffolding Plank – ROCPLEX
Product Detail
Product Tags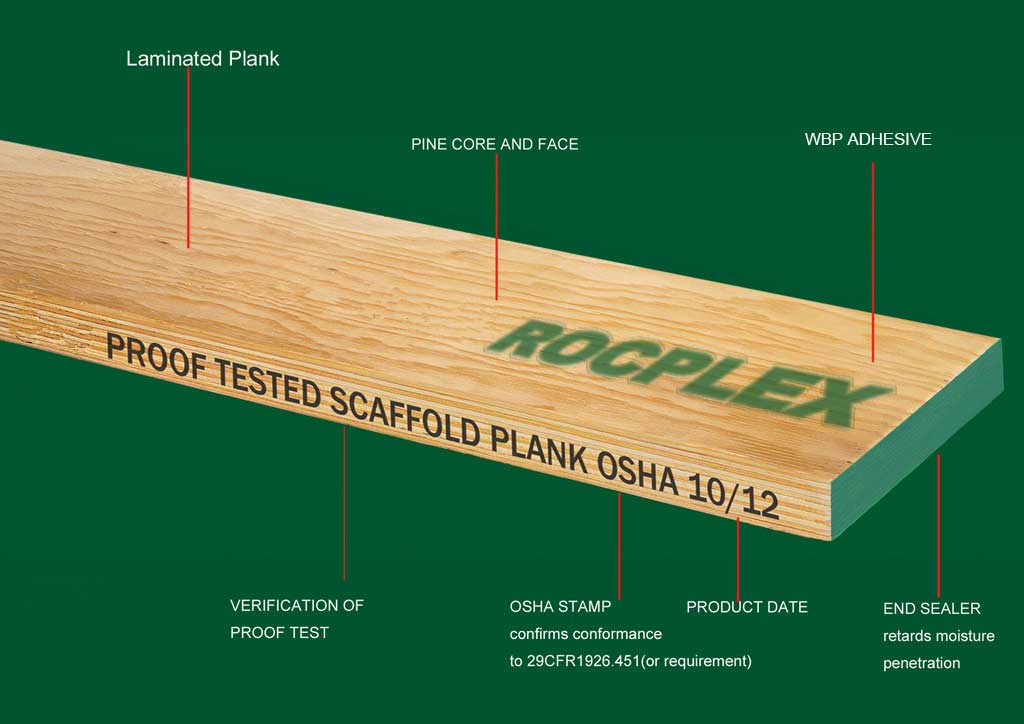 ROCPLEX engineered wood scaffold planks are compliance with OSHA safety limits are and factory proof-load tested.
ROCPLEX Scaffold Plank is an engineered wood product designed specifically for use as a scaffold plank board.
ROCPLEX LVL scafflod plank is manufactured using only high quality pine veneer.
It is bonding individual veneers together created by waterproof glue, high heat and pressure, every layer of veneer grain running parallel to the next veneer grain. The unique process by which it is manufactured make up the inherent defects of raw solid sawn lumber. Natural characteristics such as knots and wane are rearranged to maximize strength and minimize warping and split.
For specifications on the major types of LVL Scaffold Plank supplied by ROCPLEX or contact us to discuss further your needs.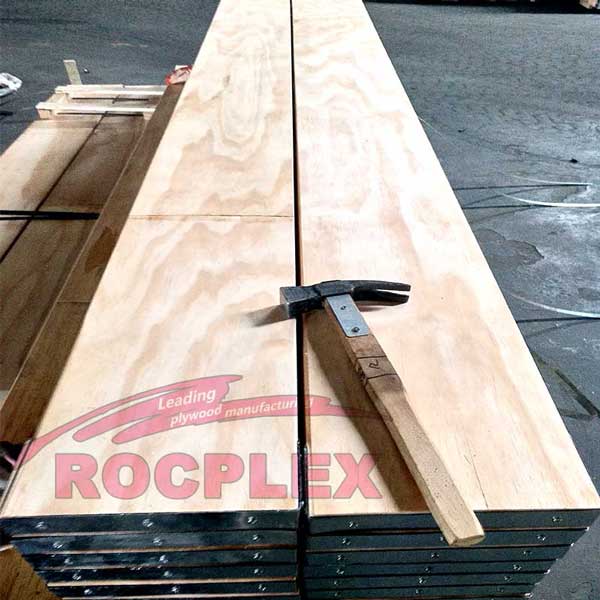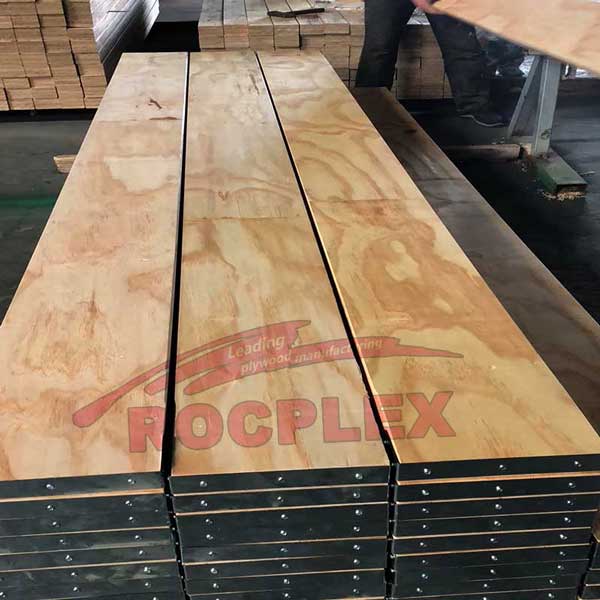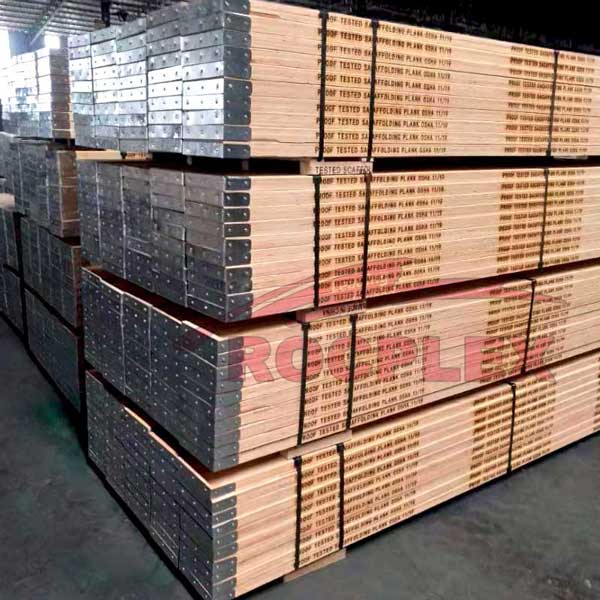 The superior strength of pine combined with a state of the art manufacturing process ensures that you will receive a LVL scaffold plank that you can depend on , which provides superior strength and a dependable, safe scaffold plank.
Building professionals often chose LVL scaffold plank because it's the stiffest of the structural engineered wood and boasts the highest strength-to-weight ratio of any similar varieties of lumber. It retains its size and shape as it seasons and adjusts to humidity, so workers don't need to worry about expansion.
Each ROCPLEX scaffold plank is made from many layers of thin veneer, which increases the uniformity and strength of the product.
Opting for ROCPLEX wooden LVL scaffold planks keeps job sites safer, and is more cost effective.
It's the material of choice for professional contractors the world over.
ROCPLEX scaffold plank is available in 2.0E and 2.1E product grade
ROCPLEX saffold plank meets OSHA/ANSI Standards
OSHA has instituted tight guidelines for scaffolding walkboards. In 2013, scaffolding was number three on OSHA's list of most frequently cited violations; the organization has stated that as many as 4,500 injuries per year could be prevented through improved adherence to scaffolding regulations.
The structural reliability of ROCPLEX scaffold plank makes it the perfect solution for a safe, lightweight scaffold plank.
At ROCPLEX, we channel immense amounts of effort into exceeding these and other compliance regulations. Our products are tested to ensure they're safe for construction workers to move about efficiently and complete their project. With our attention to detail and dedication to safety, we pride ourselves on offering the most stable and consistent wooden scaffolding planks in the industry.
ROCPLEX Timber Scaffold Planks is an essential tool when working at height. As a result of using premium quality materials, ROCPLEX scaffold plank has high load capacities and is guaranteed to be free from defects.
ROCPLEX scaffold plank anti slip surface are safe, built to last
ROCPLEX Scaffold Plank high strong and tough also light to handle
ROCPLEX Plank Guaranteed for Life,Safe working load per supported span of 300 kg
Waterproof paint end seal reduces moisture ingress,End Seal Color of Choice
Custom Lengths and Sizes,Available in lengths 0.6 to 6.0 metres
Individually proof-tested for safety and performance
Meets OSHA/ANSI Standards
SGS Independent Third Party Inspection
ICBO 1997 Uniform Building Code-Structural LVL
BENCHNARK certified with quality control procedures
Sourced from managed plantation forests– Available FSC certified upon request
ROCPLEX scaffold plank great to use on trestles & scaffolding.
ROCPLEX scaffold planks Designed for safer, faster and smarter implementation of scaffolding to the perimeter of residential, commercial and industrial facades.
For more detailed information or need advice, contact us.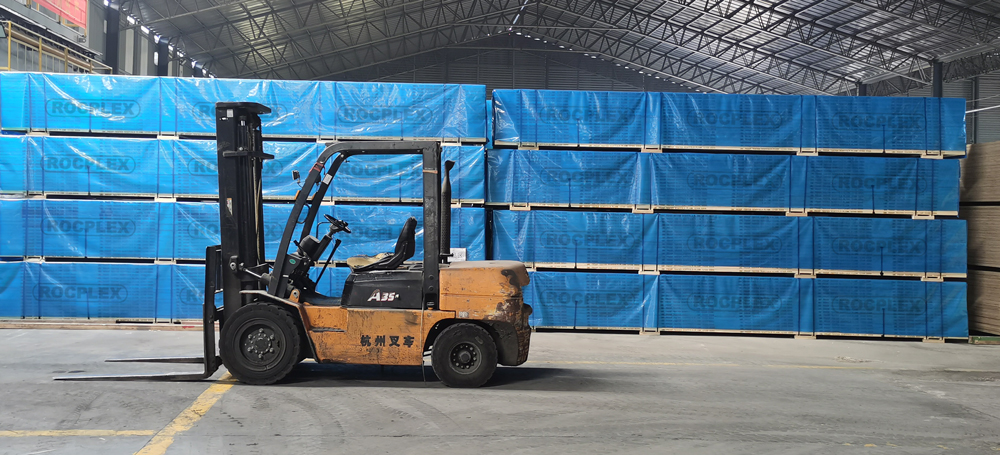 | | | | | |
| --- | --- | --- | --- | --- |
| Container Type | Pallets | Volume | Gross Weight | Net Weight |
| 20 GP | 6 pallets | 20 CBM | 20000KGS | 19500KGS |
| 40 HQ | 12pallets | 40 CBM | 25000KGS | 24500KGS |





Meanwhile we also can supply you the formwork systerm accessories, commercial plywood , film faced plywood etc.
We specially professional in supplying antislip plywood.
Please contact our sales team for more detailed information regarding chinese plywood.
---
Next:
Scaffold Plank – SENSO
---